Autumn Meetings
Venue: Cramond Kirk Halls Millennium Room
Time: Mondays at 7.30 pm
24 September Social Evening including a glass of wine and light refreshments.

29 October "The Fife Pilgrim Way"- Lyn Strachan, Fife Countryside Trust Ranger.

26 November "Death in the new Town" – Prof. Ken Donaldson, Emeritus Professor of Respiratory Toxicology, Edinburgh University.
---
In 2016-17 more people took part in and enjoyed the events and work parties run by the Cramond Association than ever before. And we welcome anyone who wants to join us. The highlights of the year include:
Providing a stimulating and informative series of activities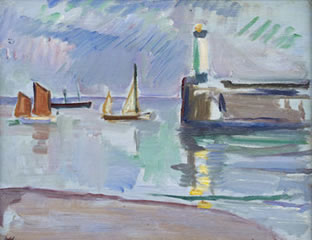 We have had an excellent programme of activities in 2016-17, including monthly talks such as 'The Scottish Colourists and Modernism' by Guy Peploe, Director of the Scottish Gallery. Guy is a world expert on the subject, and his grandfather was the artist SJ Peploe. We had an overwhelming audience of people who love the wonderful artists called the Colourists, and were interested to hear more of their legacy. 'The Mouth of the Harbour', 1910, by SJ Peploe, RSA, (right) was painted by his grandfather. The Programme Group, led by Adam Cumming, also organised the Carols by Candlelight event which is always a great start to the Christmas festivities.
Managing our internal affairs effectively
Our Vice President, Prof Anthony Seaton, CBE, led the working group which enabled the Association to become a Scottish charity, number SC047183. This means that we will be able to attract Gift Aid and other funding much more easily
Improving the environment
We take an active interest in improving the community around us – dealing with planning issues, liaising with the airport about airport noise, and improving our local environments. Our influence stems from our membership numbers – we have over 600 households (not individuals) and we work closely with the Cramond and Barnton Community Council to make sure your views are heard.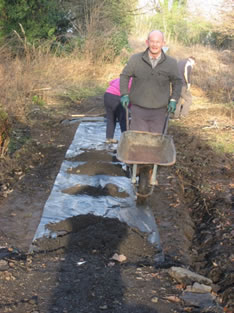 As members of the Cramond and the River Almond Walkway Interpretation Group, we have helped develop three orientation notice boards to be sited at the main entrance points for visitors to Cramond, such as the car park and the Foreshore. The Group is also organising fingerposts and waymark posts to help residents and visitors find their way around the new Cramond Heritage Trail. Still to come are three interpretation boards to tell the stories of Cramond Village, the Harbour and Cramond Island as well as the mills along the River Almond Walkway. The Group has developed a new Cramond Portal website and a Historic Cramond app with the University of St Andrews.
Dr Stefan Slater has organised numerous working parties of willing hands to construct new footpaths in Cramond Kirk woods (pictured left), which are now much used by grateful families and dog walkers.
He has also led the Association's representations in response to Edinburgh Airport's consultation on flight path changes and our endeavours to reduce the noise level of the planes overflying Cramond.
Planning
Alan Brebner, our Planning Adviser, has been tireless in scrutinising planning applications and we spent a great deal of time on the proposed monolithic care home in Cramond, but unfortunately the Council decided this was an acceptable building in a conservation area!
History Section
This has been another successful year with 50 members and often many more at the talks, which covered areas as diverse as Scottish emigrants in North America and the Great Tapestry of Scotland. The annual outing to the National Mining Museum was very informative. Thanks are due especially to Una and Tom Woof, who announced their retirement as Secretary and Treasurer respectively, after many years of valuable leadership. Norah Carlin is now the Convenor.
Collaborative working with other organisations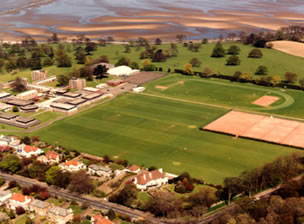 We have worked hard to coordinate our work with other organisations by having our representatives join them, for example, Bert Scott on Cramond Heritage Trust (CHT) and the Cockburn Association. We have liaised with the local organisations through the Cramond Collaborative which meets quarterly to share information and ensure positive joint working.
The Association has actively worked with the Friends of Cramond Campus, who are campaigning to ensure that sports facilities are provided on the former playing fields (pictured right) instead of being completely covered with new housing. Finally, we have worked with representatives of local organisations to develop the Vision 2030 for Cramond on improving our locality in new and inspiring ways.