Cramond Association Woodland Group
Woodland Area
The designated Cramond woodlands lie within the scheduled ancient monument area of Cramond and cover around 16 acres in two sections:
the larger - immediately east and south-east of Cramond Kirk Hall
the other - in the escarpment running from the driveway to the Hall and Cramond House down to the Cramond Inn and the foreshore carpark.
The area contains the remains of an Antonine Roman fort (AD 140) and its bathhouse, other historic buildings, and archaeological evidence of one of the oldest, if not the oldest, Mesolithic settlements in Scotland (8500 BC).
Context
Prior to 2014 the woodlands has been neglected since Edwardian times. Trees were damaged or hugely overgrown with ivy, paths deteriorated, muddy and impassable in places and shrubs choked in vegetation. The area was populated by self-seeded sycamore and other poor-quality scrub and by invasive rhododendron ponticum, laurel, ivy, salmon berry and Saracen's consound.
Since then a huge amount of work has been undertaken by the woodlands group to tackle the neglect. Our  key goal is to continue to correct the decline in the woodlands in as unobtrusive fashion as possible. There is no prospect of returning them to the ordered and designed landscape of the past.
Current Activity
Since the outbreak of the pandemic in 2020 our work has, undertandably, been somewhat limited.  We now focus on path maintenance, leaf-blowing and litter control but there were still some notable exercises carried out in the past year that bear special mention. Stefan Slater, who led the woodlands group for many years, applied tree-identification plaques to notable specimens as an educational resource.  In early December 2020, with the help of Ross Woodside of Edinburgh & Lothians Greenspace Trust, a number of new trees have been planted - a Blue Atlas Cedar (Cedrus atlantica Glauca), Atlas Cedar(Cedrus atlantica),a Hybrid Larch (Larix x eurolepis) and a Swiss Pine (Pinus cembra) with a Wollemi pine (Wollemia nobilis) also to be planted.
The Future?
We hope that regular working parties will start again every month, once it is legal and safe to do so.  These will focus on both maintenance and improvements – including activities like brush cutting, keeping the salmonberry, laurel and the Saracen's consound at the escarpment under control (with CEC Natural Heritage volunteers help)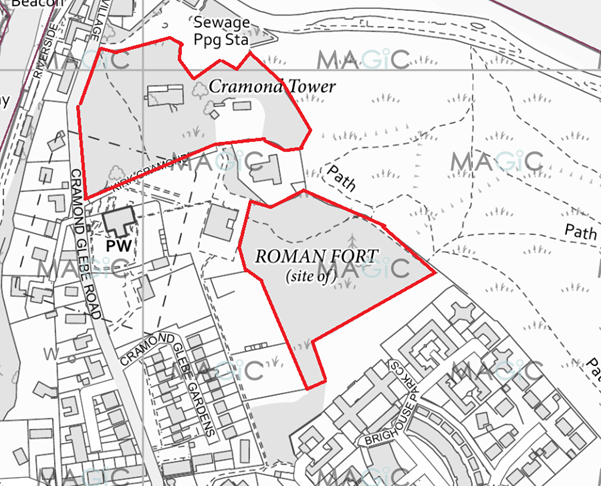 The Cramond Woodland Boundaries  (OSGB36  1:2,500)